"Here's a little known fact - New Jersey has more cherry trees than Washington D.C. And every spring residents and visitors alike can see the largest cherry blossom collection in the United States here in New Jersey."
So where do you see them besides the esplanade in Newport and some in Hoboken? 
Around Jersey City/Hoboken:
Branch Brook Park, located within Newark and Belleville has more than 2,700 Japanese cherry blossom trees that burst into full bloom (anticipated around April 20-24 this year) during the annual Cherry Blossom Festival. For more information visit www.essexcountynj.org/festival
Cherry Blossoms in New York
      Central Park – Manhattan
Bridal path at 90th Street, East Drive at 66th Street, the east side of the Boathouse at 74th Street and Cherry Hill mid-park at 72nd Street just west of Bethesda Terrace.
·
   Cherry Blossom Esplanade - Brooklyn Botanic Garden
     Annual festival is from Saturday, April 25-Sunday, April 26
     Randall's Island Cherry Blossom Festival – East Harlem
Annual festival is on Saturday, May 2. Also enjoy kite flying, face painting, arts and crafts, and more
·        
Riverside Park Cherry Walk – Morningside Heights
Cherry trees are located between 100th and 125th Streets.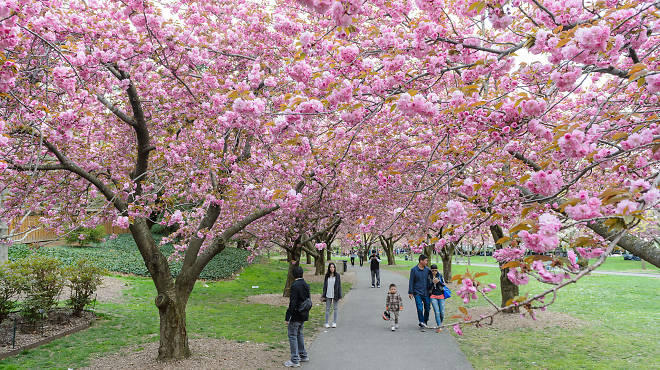 New York Botanical Garden – the Bronx
Find them at the NYBG's Cherry Valley and Ross Conifer Arboretum.
Roosevelt Island Cherry Blossom Festival -  Manhattan        
       Annual festival is on April 25, 2015 11am-4pm
     (Don't forget to ride the famous Spiderman movie tram from 60th street to this gorgeous island in Manhattan- yes Manhattan!)
Talkback... Know of other places that should be on this list? Add them on the comments below.